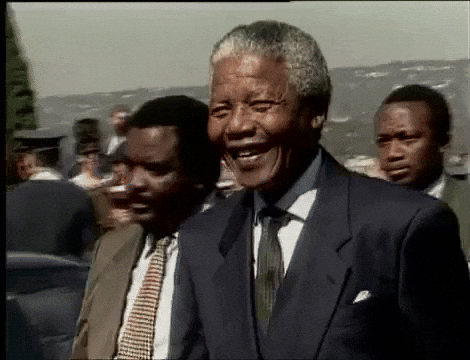 Source: Giphy
N
elson Rolihlahla Mandela was born on 18 July 1918 in the Madiba clan of Mwezo village in the Eastern Cape of Africa. His mother was

Noqaphi Nosekeni

and his father was

Gadla Henry Mphakanyiswa

.
His father was the chief advisor to the king of Thembu. When he was just 12 his father died.
Nelson Mandela devoted his entire life to the welfare of blacks. He was an apartheid revolutionary leader of South Africa and also a lawyer.
He spent 27 years of his life in prison. In 1993, he was awarded the

Nobel Peace Prize

for ridding the apartheid system. In 1994, he became the

first black president of South Africa

by the democratic system.
N
elson Mandela Personal Details
| | |
| --- | --- |
| Name | Nelson Rolihlahla Mandela |
| Date of Birth | 18 July 1918 |
| Birth Place | Mvezo, Eastern Cape of Union of South Africa |
| Died | 5 December 2013 (Age 95) due to Respiratory Infection |
| Occupation | Activist, Politician, Lawyer |
| Political Party | African National Congress |
| Famous for | Anti-Apartheid Movement |
Nelson Mandela Family Details
| | |
| --- | --- |
| Mother | Noqaphi Nosekeni |
| Father | Gadla Henry Mphakanyiswa |
| Spouse | Evelyn Ntoko Mase, Winnie Madikizela, Graça Machel |
| Children | Zindzewa Mandela (Daughter), Zenni Mandela (Daughter), Makgatho Mandela (Son), Madiba Thembekile (Son), Makaziwe Mandela Amuah (Daughter) |
N

elson Mandela Motivational Quotes
Quotes 1.
As long as poverty, injustice and gross inequality persist in our world, none of us can truly rest.
Quotes 2.
If you want the cooperation of humans around you, you must make them feel they are important, and you do that by being genuine and humble.
Quotes 3.
I never lose. I either win or learn.
Quotes 4.
Overcoming poverty is not a gesture of charity, it is an act of justice.
Quotes 5.
There can be no greater gift than that of giving one's time and energy to helping others without expecting anything in return.
Quotes 6.
A good head and a good heart are always a formidable combination.
Quotes 7.
May your choices reflect your hopes, not your fears.
Quotes 8.
We know too well that our freedom is incomplete without the freedom of the Palestinians.
Quotes 9.
Real leaders must be ready to sacrifice all for the freedom of their people.
Quotes 10.
There is nothing I fear more than waking up without a program that will help me bring a little happiness to those with no resources, those who are poor, illiterate, and ridden with terminal disease.
Quotes 11.
While poverty persists, there is no true freedom.
Nelson Mandela Official Website
Sources & References